MATERIAL, HANDLING & LOGISTICS
July 2018 – A Guide to Responsible Sourcing in Automotive, Electronics
"A new report assesses the importance of 37 materials to these industries and evaluates environmental, social and governance risks." Read more here.
INTERNATIONAL LEATHER MAKER
July 2018 – Drive Sustainability releases Material Change report
"Drive Sustainability, a partnership of ten major automotive brands, manufacturers of commercial and passenger vehicles, has released the "Material Change" report, which presents a general industry level assessment of many materials used in the automotive and electronics industries, including leather, with the aim of "challenging the reader to broaden their view of multifaceted and interconnected manufacturing supply chains." Read more here.
ETHICAL CORPORATION
April 2018 – Electric car makers in drive to remove human rights stain from cobalt
"Electric vehicles promise a greener, cleaner future but first their manufacturers have some investment to make in their sustainability. The lithium ion batteries in electric vehicles, smartphones and laptops require a critical raw material – cobalt." Read more here.
FINANCIAL TIMES
"The car companies said they would set up a "Raw Materials Observatory" to "identify and address ethical, environmental, human and labour rights issues in the sourcing of raw materials." The statement came after a meeting of 70 car companies, suppliers, NGOs and EU institutions in Brussels." Read more here.
Logistics Manager
"Stefan Crets, executive director of CSR Europe, which coordinates this partnership, said: "The Raw Material Observatory will assess the risks posed by the top raw materials (such as mica, cobalt, rubber, leather and others) in the automotive sector. This will allow Drive Sustainability to identify the most impactful activities to pursue to address the human, ethical and environmental issues within the supply chain." Read more here.
Sustainable Brands
"Electric vehicles and alternative fuels are key components of the auto industry's vision for the future, but technology isn't the only thing driving sustainable mobility. Drive Sustainability, a partnership between ten leading automotive companies — BMW Group, Daimler AG, Ford, Honda, Jaguar Land Rover, Scania CV AB, Toyota Motor Europe, Volkswagen Group, Volvo Cars and Volvo Group — is launching a Raw Materials Observatory to address key ethical, environmental and labor rights issues along the automotive supply chain (…)." Read more here.
Auto-Medienportal.net
"Die Konzerne gaben jetzt bekannt, eine Beobachtungsstelle für Rohstoffe einzurichten, um ethische, umweltbezogene, menschen- und arbeitsrechtliche Probleme bei der Beschaffung bestimmter Produktionsmittel aufzudecken und anzugehen." Read more here.
.
businessGreen
"A group of the world's leading car companies, including BMW, VW and Ford, has announced a joint initiative aimed at addressing environmental impacts arising from the sourcing of raw materials in the automotive supply chain." Read more here.
.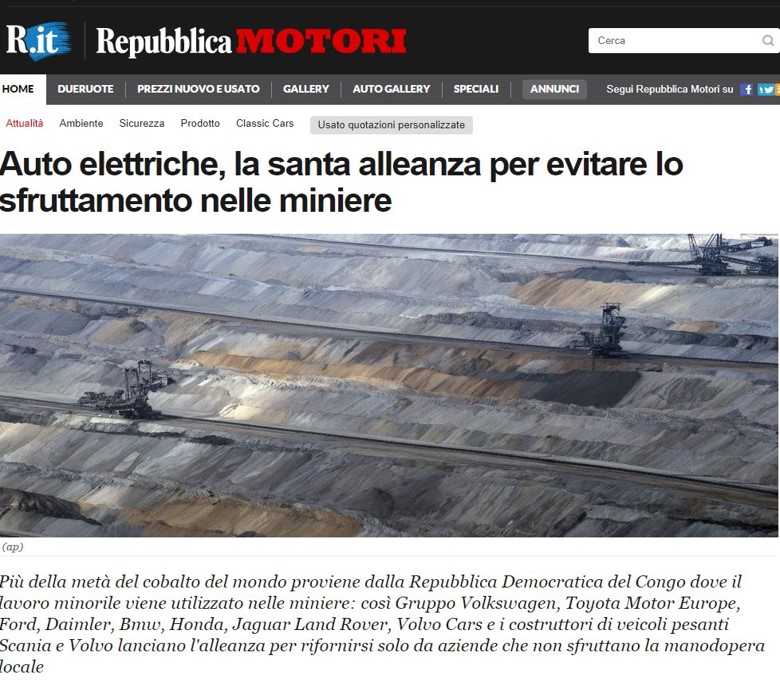 Repubblica Motori
"Più della metà del cobalto del mondo proviene dalla Repubblica Democratica del Congo dove il lavoro minorile viene utilizzato nelle miniere: così Gruppo Volkswagen, Toyota Motor Europe, Ford, Daimler, Bmw, Honda, Jaguar Land Rover, Volvo Cars e i costruttori di veicoli pesanti Scania e Volvo lanciano l'alleanza per rifornirsi solo da aziende che non sfruttano la manodopera locale." Read more here.
.
Automotive World
"The automotive industry uses a vast and complex variety of raw materials, from minerals like gold, cobalt and lithium to commodities like rubber. Demand, availability and replacement for each of these materials differs case by case, and the use of certain materials can have wide-reaching impacts…" Read more here.
.
Reuters
"Leading carmakers including Volkswagen (VOWG_p.DE) and Toyota (7203.T) pledged on Wednesday to uphold ethical and socially responsible standards in their purchases of minerals for an expected boom in electric vehicle production." Read more here.
.