SHANGHAI (China) – November 06, 2018 – Supply chain sustainability depends on the collaboration and engagement of the entire supply chain. On November 06, the partners of Drive Sustainability China and a group of 25 suppliers discussed how to "collaboratively advance sustainability beyond Tier 1 in China" at the OEM-Supplier Exchange meeting in Shanghai. Recommendations were integrated in the Group's 2019 activity plan.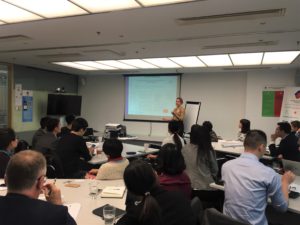 No sustainable solutions without collaboration
Drive Sustainability regularly seeks open dialogue and engagement with local stakeholders to develop a common understanding and approach to shared challenges.
Sustainable and impactful solutions can only be developed considering the economic, social and environmental parameters surrounding various supply chains actors at different levels and locations. Since its inception, Drive Sustainability has been organising multiple supplier events in locations such as Turkey, China, India, South Africa etc.
Thus, on November 06 the partners of Drive Sustainability China – BMW, Volvo Cars, Volvo Group, Volkswagen, Daimler, Jaguar Land Rover and Scania – soughed the exchange with 25 Tier 1 suppliers during the half-day event co-hosted by the European Union Chamber of Commerce CSR Forum in Shanghai.
The objective of the event was to explore how the OEMs of Drive Sustainability and their Tier 1 suppliers can have a common approach to improve supply chain sustainability beyond Tier 1. In China, many sustainability issues occur at the third or fourth layers of the supply chain.
Key findings: Awareness raising and localization activities as priorities
Starting with a panel, representatives of BMW, Volvo Cars and Jaguar Land Rover stressed that sustainability is a key purchasing requirement towards suppliers in China and in the world.
 "Sustainability must not stop at Tier 1 level but should actively be promoted by each level of the supply chain. " – Drive Sustainability Representative
Active discussions on how to further sustainability throughout the Chinese automotive supply chain followed. Key recommendations raised therein are:
– Awareness raising and knowledge exchange activities remain essential as suppliers experience growing pressure to comply with government's and buyers sustainability requirements but have little experience in the topic.
– Risk assessment tools, such as Drive Sustainability's self-assessment questionnaire (SAQ), are important but must reflect the real risk situation in China. Tools need to be localized to align the requirements of international buyers with the requirements of Chinese authorities to prevent governmental sanctions towards suppliers.
– Capacity building activities such as the Drive Sustainability trainings are impactful. But to further increase their reach beyond Tier 1 and meet the needs of China's 25.000-part producers solutions need to be adapted relying e.g. on online or train the trainer models.

Implementing lessons learned
In a swift reaction to the meeting's outcomes, Drive Sustainability China has set the following priorities for 2019:
– Hosting of two events focused on awareness raising and knowledge exchange
– Increase dialogue with local stakeholders and facilitate access to knowledge resources e.g. through Drive Sustainability Website
– Develop a localized risk assessment tool
– Work towards further deploying Drive Sustainability tools e.g. trainings in China
The meeting was hosted by Drive Sustainability's local network in China and facilitated by GoldenBee CSR Consulting in collaboration with CSR Europe.
GoldenBee CSR Consulting, founded in 2003, is one of the first professional organizations to embrace social responsibility and sustainable development in China. As an advocate, communicator, promoter and pioneer of social responsibility in China, GoldenBee CSR Consulting takes the lead in researching, consulting, training and responsible brand building services; Based on rich practical and research experience, GoldenBee CSR Consulting proposes and advocates "Responsibility Competitiveness" philosophy, continuously provides high quality CSR consulting services to clients, develops innovative management patterns together with clients to help them transform into sustainable enterprises meeting future challenges.
Drive Sustainability is an Automotive Partnership between BMW group, Daimler AG, Ford, Honda, Jaguar Land Rover, Scania CV AB, Toyota Motor Europe, Volkswagen Group, Volvo Cars and Volvo Group. The partnership, facilitated by CSR Europe, aims to drive sustainability throughout the automotive supply chain by promoting a common approach within the industry and by integrating sustainability in the overall procurement process.